Come Join Us
Do you play a string, woodwind, brass, or percussion instrument?
Have you been looking for an orchestra to be part of?
The New London Community Orchestra is always open to new players. We welcome members of all ages, experience levels, and backgrounds.
We rehearse on Wednesday evenings from 7–9 p.m. at St. Mary Star of the Sea Church, 10 Huntington St., New London. Rehearsals are underway for our upcoming spring concert. Join us at a rehearsal and see if the New London Community Orchestra is right for you.
Visit the Member Info page for more information.
About Our Music Director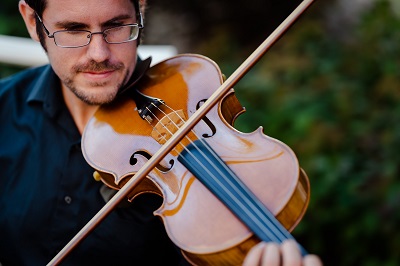 Kevin Bishop is dedicated to the idea of "music as social action": the belief that long-term music education can aid community building, personal elevation, and reconstruction. His varied career as a violist, violinist, conductor, composer, educator, researcher, and arts administrator has taken him around the world to study, witness, engage with, and lead social music projects.
Kevin is a founding member and Executive Director of Cuatro Puntos, an organization that uplifts underrepresented, silenced, or persecuted musical voices and genres. His work with Cuatro Puntos has taken him around the world, from Bolivia to Afghanistan to Switzerland and beyond. Kevin also composes and records music inspired by the traditions and people he encounters, and he has both compositions and performances published on albums via the Arkadash, Toccata Classics and Métier, and Naxos labels. Kevin has conducted on some of the biggest stages in Europe, performed viola recitals at Carnegie Hall and Lincoln Center, won international competitions, performed chamber music on four continents, lectured at universities across the United States and Europe, and presented at conferences on "music as social action" around the world.